Medi-Sota Recruitment Program Places Dr. James Ilko at Granite Falls Health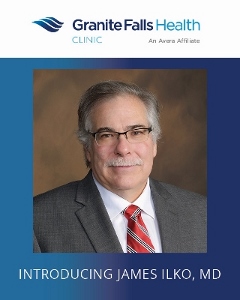 Granite Falls Health is welcoming their newest Family Medicine physician Dr. James Ilko. Dr. Ilko enjoys "practicing a wide range of medicine" and specializes in obstetrics, pediatrics, and adolescent medicine. Dr. Ilko reflected, "the best part of being a physician is the honor of providing care at patients' first breadth of life to their last breath of life". Prior to moving to Granite Falls, Dr. Ilko spent nearly 25 years working in private practice in Woodbury, MN.
Originally from San Diego, Dr. Ilko first became interested in being a physician when he volunteered as a religious school teacher, while attending high school. "I liked the enthusiasm of the kids and knew I wanted to be a pediatrician entering college," Dr. Ilko said. He eventually attended Princeton University for his undergraduate where he earned a degree in economics in 1985.
After graduating college, Dr. Ilko enrolled in medical school at the University of Michigan. It was during his clinical rotations that he "fell in love with obstetrics." It was mid-way through the interview process for his OB/GYN residency that Dr. Ilko decided he could not give up pediatrics. He went on to become a family medicine physician and continue delivering babies and providing pediatric services.
Describing his approach to providing care, Dr. Ilko emphasized his interest in preventive and comprehensive care for both men and women of all ages. Dr. Ilko is excited to make new connections with the community. He says that working in small town is different because it provides unique opportunities to build deep relationships with the people he gets to see. "I'm particularly honored to care for multiple generations of a family and the relationships between people, their neighborhoods and community," he added.
Dr. Ilko currently resides in Granite Falls with his fiancée Kim. He describes Kim as "an exquisite down-to-earth woman with experience in government and non-profit organizations." The two will marry in April at his parent's home in San Diego.
He also has two adult sons who are currently attending college in St. Paul, in addition to four stepchildren and six grandchildren.
In his free time, Dr. Ilko enjoys hiking, wildlife photography, spending time with family, and playing tennis, and restoring antique furniture.
For more information about scheduling an appointment with Dr. Ilko, please contact the Granite Falls Health Clinic at 320-564-6200.